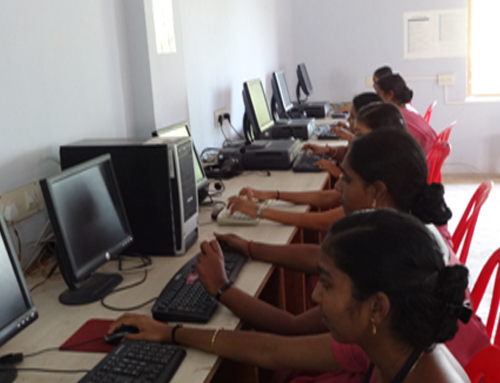 Our computer lab is well equipped and furnished; it remains the major attraction to all our students. A server, inkjet and laser printing facilities are there in our Computer lab. Free Internet connectivity all through the college working hours is a boon to all the students. Updating the lab is a continuous process aimed at keeping abreast of technological innovations. The lab also has a good reserve of CDs of educational and recreational value.
Our language lab enables student teachers to listen to pronunciation and recorded linguistic expressions. It also enables subsequent auto correction of the errors in intonation, stress and pause. As the users are exposed to the language and style of native speakers, they are able to improve their language skills.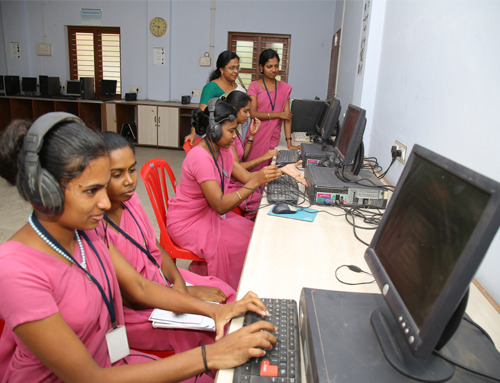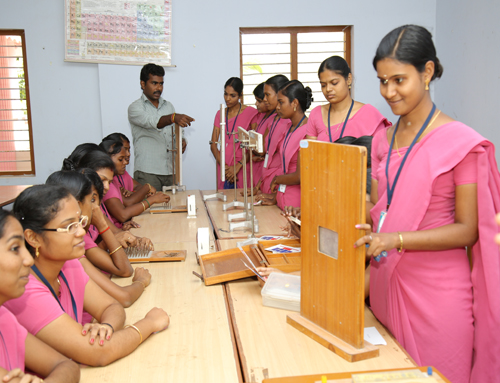 The psychology lab of our college is provided with apparatus for simple experiments related to educational psychology such as intelligence test, creativity test, attitude test, aptitude test etc. categorized under Group A and Group B. There are also CDs related to these tests. The Psychology laboratory fulfills the purpose of equipping the student teachers with the knowledge of the tools and equipments used for assessing the psychological traits and further the skill of using the equipments and drawing inferences from the results.
Practical work is one of the quintessential features in B.Ed course. To provide practical training to student teachers, our college makes good use of physical science lab.The Physical Science Laboratory of the college has a good collection of both Physics and Chemistry working and static models, equipments, apparatus and chemicals related to high and higher secondary level. Anna Vinayagar Devasthanam Higher Secondary School is a long- standing school. The school is virtually like one attached to the Anna Vinayagar College of Education and so considered and used for instructional purpose.The school has very good laboratories for science subjects.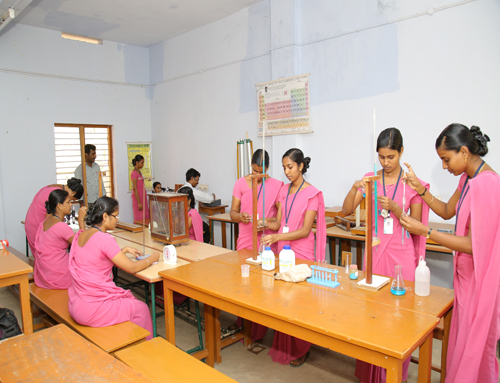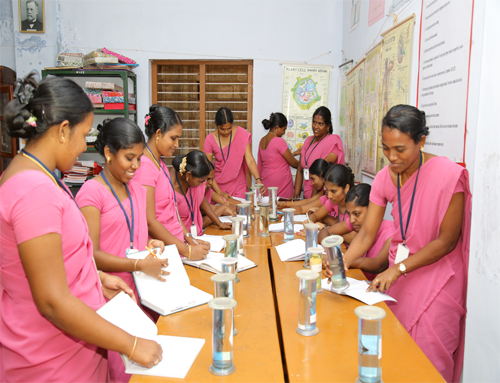 Our college has a very good Biology laboratory. Preparation and examination of microscopic slides, preservation of specimens, demonstration of experiments, exploration of physiological process, development of teaching models, dissection work, maintenance of aquarium and establishment of bottle gardens are some of the enjoyable educational endeavours carried out by our prospective biology teachers in the Biology lab.
Educational Technology Lab
Our Institution has well-established Technology lab. The technology lab provides ample ground for the student teachers to develop awareness of the prevalent technological trend in Education and to develop the skill of using the technological gadgets in right teaching context. In the lab we have Television, Video camera, Digital camera, OHP, Slide Projector, Educational VCDs and DVDs. All of our students utilize the equipments.